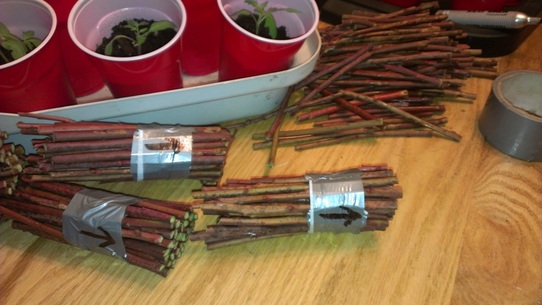 Blueberry cuttings are taped up, notice the arrow on the tape there is an up and down side on every cutting determined by the angle of the buds.Ultimately they all should be placed in the sand the same direction that they were growing on the bush when you pruned them.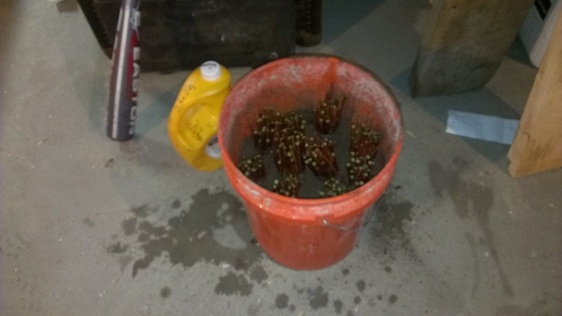 Its a waiting game.just keep them moist. I'm keeping them in our basement until I see some green. Should be about 4 weeks, at that point we will be over the worst of the cold.

| | |
| --- | --- |
| Vegetables arriving in May | |
---
Converting plastic cups into nice plant pots (I use them over and over) and then can be recycled!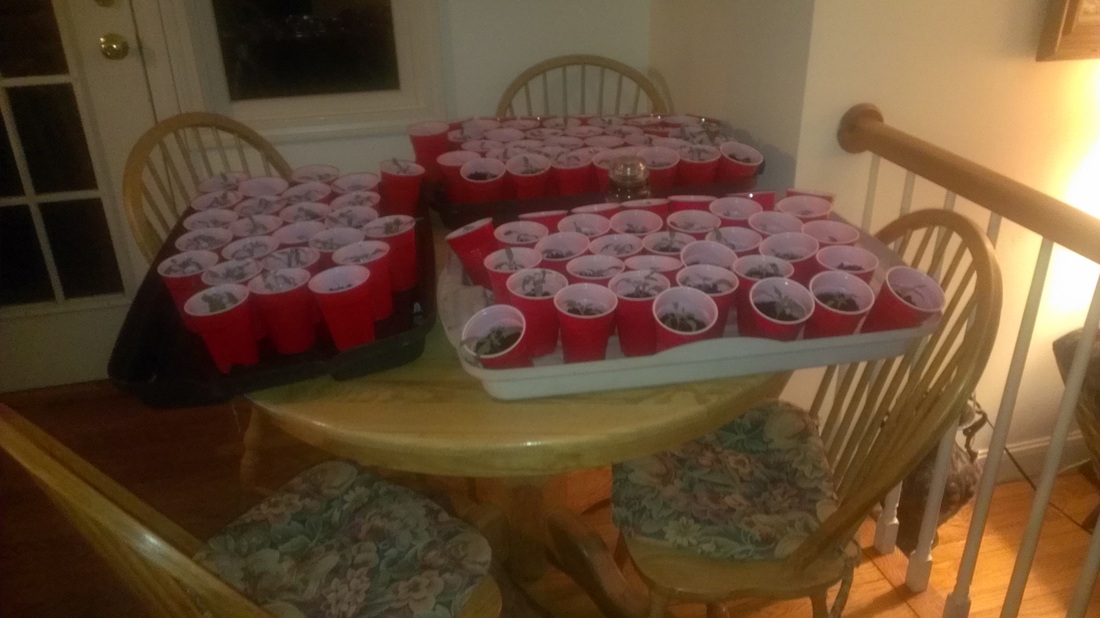 The invasion of the baby tomato plants! They worked very nice! Total savings 14 cents a pot. 6 cents compared to 20 cents for the store bought pot with the same volume.

---
Make a Mini Greenhouse

Winter sowing with used water and milk jugs!

It's the middle of March and Spring, as of yesterday, has begun! You look out the window and still see snow on the ground. The planting season seems far away but it's just around the corner. One great way to get a jump on the garden season is to winter sow. It's not too late to start!
Begin by getting some jugs. If you haven't saved any, the thing to do is take a trip to your town recycling center and ask for some. They will be more then happy to part with a few. The best jugs to get are the "cloudy" plastic gallon size jugs. Clean them out with a splash of bleach and water and drill holes in the bottom for drainage (I use a cordless drill with a quarter inch drill bit. You can also burn the holes in, but that gets a bit stinky).

Next step is to make a cut around the container leaving a small spot uncut (this makes a hinge). Add your seed starting mix and wet it ( I bring them over to the sink and use the sprayer). Take your seeds and broadcast them in the container. Don't worry about seeding them in too thick, they will be all transplanted anyway. I use duck tape to close them up and mark the duck tape with a laundry marker," type of seed and date seeded". Do not forget this step or you will be scratching your head when its time to transplant them. ..

Put them outside and let mother nature do her thing. I think you will be very pleased with the result. Your end product will be nice hardened seedlings ready to transplant, No electric bills and a lot easier then growing indoors. Outside, the constant freeze thaw cycles helps break down the seed coat making germination "easier". You can do flowers and vegetables, Make sure when they start to sprout that you open them up. You don't want to cook them. When it starts to get warm, it's best to move them to an area that does not get full sun. Oh yes, don't use a permanent marker instead of a laundry marker, as i have read that it will fade and be difficult to read.